As part of my new series reviewing Seattle area running trails, I visited Bridle Trails State Park.
According to the
Bridle Trail State Park
Foundation website, Bridle Trails State Park is 482 acres with a total of 28 miles of trails. The park is located just off of I-405 in Kirkland, WA.
One thing to note: you need a Discover Pass to park in the parking lot and can buy a day pass on site.
Another thing to note: The trails are all used by horses. Familiarize yourself with etiquette regarding sharing the trail with horses-- the main things being, the horses have the right of way and when you come upon a horse and rider, stop and step off to the side of the trail and "make your presence known". You can do this simply by saying hello to the rider, or they will say hello to you! Every rider I passed during my run was very friendly.
The first time I was at Bridle Trails I came across about eight other walkers or runners and six horses/riders. That run was mid-day on a Wednesday in early September, the trails were almost totally dry, and the weather started out overcast and ended sunny (though the trails are completely shaded).
Trail map below is from the Bridle Trails State Park Foundation website. I printed a map and brought it with me, which I think is a good idea for any new trail you may explore! Since I already had one, I didn't check if there were maps to use on-site.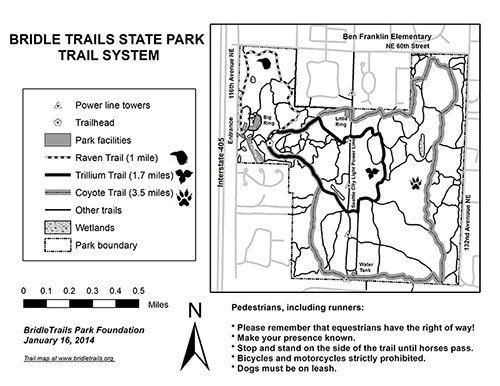 Bridle Trails has three main trails. While there I ran the Coyote Trail first, then the Raven Trail, then while running the Trillium Trail I darted off on to smaller, unmarked trails. All of the trails had many, many piles of horse poop on them, which was a little gross, but I guess that's how it works when you share the trails with horses!
After parking in the Bridle Trails parking lot you need to walk a very short ways up to the trail head. From there you can follow the signs for the three main trails. The main trails are wide and well-groomed dirt with little elevation gain (my Garmin showed 483 feet total for my 8.3 mile run). Every once in a while I would come across a very short stretch where the trail was covered with gravel. All three trails are well-marked if you follow them clock-wise from the trail head.
Elevation results from my run.
The Coyote Trail closely follows most of the perimeter of the park. There are many places where you can see houses, or the street, or hear noise from the neighborhood. When you are more in the interior of the park it is as if you are miles away from civilization, however.
I ran about five miles on the main trails before I decided to try out some of the smaller trails. The smaller trails are a lot of fun, there are lots of roots to jump over and twists and turns to make. While I won't say it is impossible to get lost (ahem), all of the smaller trails start and, as long as you are running towards the center of the park, also end on a main trail. Some of the smaller trails will end up on a road next to the park, so you could just turn around and head back in in that case. As long as you have a good idea of where you are when you end back up on a main trail, you will be okay. I got turned around coming off of a few of the smaller trails and ended up adding on over a mile to my run because I wasn't headed the direction I thought I was!
My route from my Garmin.
Bridle Trails seems like it would be a great park for beginning trail runners and more experienced trail runners alike. If you want the feel of a trail without the obstacles (other than horse poop) just stick to the main trails. If you are adventurous and want more of a challenge of roots and logs and twists and turns, get lost in the interior of the park!
As far as running events, it looks like
Seattle Running Club
has put on races at Bridle Trails. That might be a really fun event!
For more Trail Running for Beginners post,
visit HERE
.
Have you ever run at Bridle Trails State Park? Any other thoughts or tips to share?