It is pouring rain.
I am tired.
My body is sore.
So many excuses!
It is the second week of training and I am ready to crawl under the covers. This stuff is hard, you guys!
I am incredibly fortunate that I have time during the day to get workouts in and a few of them take up a great deal of time. Two days a week I am strength training along with a run or swim, and there is just no way to get through it quickly. Training for an endurance event takes, well, endurance. Duh.

Monday was strength and my shortest run of the week.
On Tuesday I tried a barre class for the first time, and, oddly, there was no actual barre involved. That class is tricky, because you think it's going to be easy to lift 2.5# and 5# weights, but oh no. When you are lifting them many, many, may times, your arms will hurt.
Wednesday was another strength workout followed by a swim. With changing and showering and all of that, again, took for.ev.er.
Then there is the not-so little matter of my eight year old suddenly rejecting all things sleep related, instead choosing to stay out of bed and scream. For hours. So that's putting a cramp in the rest of the family getting decent sleep. It should make the half marathon I am running on Saturday challenging, but maybe in a good way? That whole "running on tired legs" thing? Probably total lack of sleep is not what the sentiment means . . .
On Thursday I got out and made the run happen despite the rain, exhaustion, and soreness. I was glad I did it, though. 100% of the time I feel better after fitting in the run.
This morning I bailed on yoga. It wasn't all bad, as I did a bunch of stretching/rolling at home, instead. I needed to be home in my jammies and near the comfort of the couch should I need to just pass out. Sleep deprivation is no joke.
The one thing about this morning was my sheer delight in being faced with a giant sale rack of $10 shorts at the running store. Say what? I stopped in to grab some shot bloks and the rack snagged my attention. I was pleasantly surprised to find a pair of Moving Comfort shorts and a pair of Oiselle shorts-- $10 each! Almost $100 worth of shorts for $20! Score!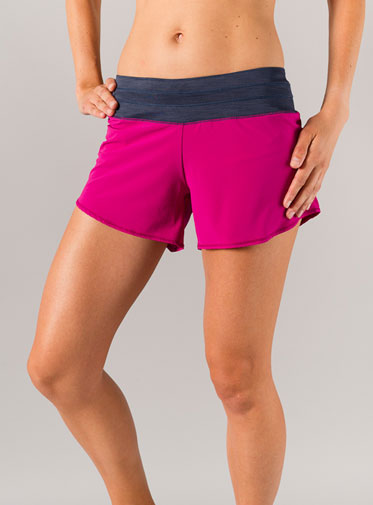 I got these Oiselle shorts. That isn't me.
and I got these Moving Comfort shorts.
So, that is exciting and soothes my weary heart. I am looking forward to what will be an extremely wet and muddy trail half marathon tomorrow morning. Woo hoo!